Year 2 Homework Literacy Center
Posted on
Apr 3, 2014
in
Blog, My Resources
|
2 comments
Grade 2 Homework An Introduction
Allow me to introduce my eldest son, Alex.
He is an athletic boy. He loves to run. He loves to jump. In fact, he loves to run and jump at the same time. ALL. DAY. LONG. Well, he would, if I allowed it!
Alex is also a fidgeter. After many tests and what seemed like forever, our pediatrician told us that he doesn't have ADHD/ADD, as we feared, and that he is a perfectly healthy little boy with a LOT of energy. He will – eventually – learn to control his impulse to move and fidget. In the meantime, we have to be patient and help as best as we know how. If you have a boy like Alex at home or in your class, you will  totally understand that patience really is a virtue!! And you'll also understand how hard it can be to get him to sit still and do his work.
So, what does homework look like with my fidgety 8-year old? Let's begin with this photo: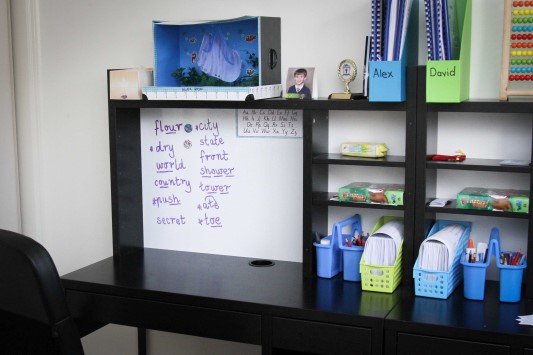 It's what his desk looks like on a good day. I believe organisation is an important key to happiness in the home and EVERYTHING must have a place. Alex does not agree with my philosophy, but he admits that putting things away in "the spot they should go" ensures that will be there when you need them again 🙂
His homework books and other things from school are stored in the pull-out drawer under the writing area of his desk. His corrected worksheets, salt writing tray and other resources go under his desk as shown in the photo below.
Alex and I have come up with a little homework routine that usually goes like this:
1. Phonogram Review
2. Literacy/Grammar
3. Spelling & Word Work
4. Maths
5. Reading
6. Piano
7. Scripture Memorisation (need to work on this one!!)
1. PHONOGRAM REVIEW usually includes these beauties:
While he can recognise them when reading, he has trouble writing them. I have a set of flash cards (available here if you'd like a set) which I get him to identify, then he writes a few of the ones he doesn't seem quite certain about in a salt or sand tray.
We had a bit of a set-back this week because Mr. Alex came home on Monday with ONLY his Literacy homework book. No Maths book. No Spelling words book… 
So, on Monday, he finished his homework in less than 5 minutes. And then he wanted to go and play with his Lego.
I don't like the idea of a child being forced to do homework. I personally believe it will only make him hate it. My passion in life is to instill a LOVE for learning in my children and I go to great lengths to try to achieve it. But what am I to do with a child like Alex who will do anything to postpone doing his homework? Thankfully, I can reason with him on most days. If, however, he's not in the mood to be reasoned with, we simply take a break. Sometimes that means he goes and plays the piano as that helps him to re-focus, or I get him and the other kids together and we play a card game, or  he has a snack… Something – anything that does not involve TV – to take his mind off homework. Then, when I think he looks ready to try again, I remind him that we haven't finished his homework and I give him the option to go back now, or in 10 minutes time. So far, this strategy has worked for us.
So… he wanted to play with Lego after only 5 minutes of homework. But I say to him, "Let's just read one book, and then you can go." "Okay," he grumbles. He's not pleased, but selects a book and accompanying worksheet. These are from Reading A-Z.
A few paragraphs into the book and he's hooked and can't wait to find out more 🙂
Here is a photo of him reading "Bedbugs Bite", totally absorbed in the icky world of  bedbugs…
And then:
"EEww! They are so gross! I'm itchy ALL OVER! What if they are on me!!?" So funny!!
2. LITERACY and GRAMMAR work starts with him parsing the sentences in his homework book. The following days, I give him a bit of extra work, depending on what concepts he needs to work on to be more confident.
This week, we focused on personal pronouns.
(Click on the picture above to obtain the worksheets we used this week.)
Here is a photo of him, working away. He tells me he likes the work I made for him and that I'm very creative; that makes my mummy heart happy 🙂
3. SPELLING and WORD WORK. When he remembers to bring home his spelling list book, I copy the words from his book onto the board on his desk. I love the person who invented this desk; I mean, how genius is that magnetic white board on the back!?!
Each day, he writes his spelling words in his homework book. In the photo below he is using a pencil with texture dots from Faber -Castell which I think are great – especially for tactile kids like Alex. I also found this "moldable" eraser which can be manipulated with as much ease as blu-tac, but still rubs out pencil. Alex likes to hold it and gently presses into it every now and then. Small things like these help to make the writing part of homework a much more enjoyable experience.
After he's done, we do some fun word work activities together. He may not enjoy writing too much, but he definitely loves hands-on activities, so I include something new each week.
This week he did a beading build-a-word activity:
Salt tray writing which we took from lil' Filip:
A spelling addition worksheet (available in my TpT store here):
He asked for it the next day too. He actually really LOVES this worksheet! We each guess which word we think will have the most points and he thinks it's so much FUN to find out which word will win! This worksheet definitely helps to make writing spelling words enjoyable and FUN! In fact, if you look at his work below, you'll see that he wrote the words out TWICE to show who came 1st, 2nd, 3rd and 4th. I love it when he has fun doing homework!
4. MATHS – Alex really likes Maths. In fact, if he is doing Literacy and finds something stressful, he asks to do Maths first and then we get back to the Literacy work afterwards. Alex completes his Maths work from school and then for the following days, as with Literacy, I make up some worksheets or games for him if there is something he needs to work on.
This week, I noticed he was making careless mistakes by not paying attention to the signs, so I made these for him:
(Please click on the picture if you'd like a copy.)
He used dot paints for the worksheet because work is more fun with them 🙂
5. READING: We usually retreat to a quite place in the house and I listen to him read. I love it when he gets into a book he's reading and reads expressively. Here he is posing with a reader (from school this time):
7. PIANO. I totally forgot to take a photo of him playing the piano, but this too is part of our after school routine. He practices on his own, though he does ask me to come and listen to him play every now and then.
6. SCRIPTURE MEMORISATION: At the moment, this is a big fail in our homework routine. I have tried getting all the kids together as they are all required to learn the same verse each month. This didn't work well, so I will need to come up with something else.
Whew! Looking back up through this post, it looks like a lot of work. However, we really only spend about 20-30 minutes 4 days a week doing homework.
Alex can be a challenge to work with, but the effort is worth it, especially when I see that he's engaged and enjoying the work. Yes, he still needs to be reminded about doing his homework, and some days are trickier than others, but I'm sure one day, when he's older and a lot wiser, he'll say: "Thanks for helping me, even though I didn't know I needed it!" Until then, I'll remind myself to be patient, to breathe, count to ten, take a break and enjoy who Alex is at this age 🙂
I was not always successful at structuring my literacy centers to best support all of my students. It took a close look at the center activities I assigned, the procedures I expected students to follow, and my teaching around the center work before I understood how my "one-size-fits-all" approach was leaving some students unsupported and others unchallenged. This book is the result of years of changes that helped me create a literacy center program that truly supports standards-based reading and writing instruction and meets student needs. It is my intention that this guide helps you to create both an effective and easy-to-manage centers program that supports each and every student on his or her literacy journey.
How Much Time Were My Students Actually Reading and Writing at Literacy Centers?
Scenario 1: Brittney at My Traditional Literacy Centers
5 minutes: Brittney stands by the shelf of book tubs, picks up the book More Spaghetti, I Say from the H tub, puts it back, picks up another book. Then she repeats this with two more selections. Brittney finds a chair at the Reading Center area.
4 minutes: Brittney flips through her book and then reads it.
2 minutes: She looks at what the others in her team are doing and asks Tamika what they are supposed to do when they've read their book. Tamika points to the form in the tray.
3 minutes: Brittney takes a form, looks at it, and then looks at the sheet that Jayden is writing on next to her. She draws a picture.
4 minutes: She begins to talk to Jayden, asking him if he likes her picture and continues talking off-topic.
1 minute: Brittney begins to copy Jayden's writing, but he tells her she should be writing about her own book.
1 minute: She begins to write "I like . . . " and stops as the signal sounds for tidy-up time.
Total Minutes: 20 Reading: 4 Writing: 1 On Task: 9 (includes selection of materials)
Where It All Began
Our school literacy team was examining ways to increase the time students were reading and writing each day in our classrooms. We already had 150 minutes dedicated to literacy instruction each day: sixty of these were allotted for teacher-managed, small-group instruction alongside student-managed literacy centers; the remaining time was devoted to readalouds, shared reading, word study (decoding and spelling), and writer's workshop. Surely we offered our students ample opportunity for extended periods of reading and writing each day! Our observations and assessment of students in small-group instruction demonstrated that this instructional time was well spent, but we questioned just how many minutes our students were actually engaged in reading and writing at the literacy centers while we worked with those groups. Were we maximizing this time for student-driven learning?
To determine whether this was the case in my own classroom, I decided to block off one day of small-group instruction so that I could observe and track the number of minutes a specific student spent engaged in reading and writing. For this purpose, I chose one of my struggling readers, Brittney. You read the summary of this observation in Scenario 1. But Brittney wasn't an anomaly. Further observations showed that many of my students were having trouble managing their time and completing their work during literacy centers. I discovered that students were:
spending more time browsing the reading materials than reading them.
unsure how to respond to their reading.
drawing and talking off-task.
depending on directions from and/or copying the work of other group members.
Comfort Zone Meets the Zone of Proximal Development
This lack of productivity was not what I had envisioned for the literacy centers in my classroom. I realized that behind the management challenge was an instructional one: students with more advanced literacy skills were completing activities in their comfort zone, while struggling students were not able to keep up. Few students were working in their zone of proximal development, the level of challenge at which learning takes place (Vygotsky, 1978). The more advanced students were not getting the challenge they needed to grow and my struggling readers were leaving tasks unfinished, or relying on their peers to "get them through" the activities without developing an understanding. Either way, they were not maximizing their literacy center time, and this was precious learning time that none of us could afford to waste.
I was familiar with the concept of tiered assignments in which the same task is presented at varying levels of challenge to ensure success for all students. Why could I not use the same data I used to guide my small-group instruction to plan tiered activities for my literacy centers so they would be more closely aligned with student need? The direction was clear, but I wasn't sure how to make this manageable, given an already overloaded work schedule. The challenge was to plan and prepare multilevel activities for the literacy skills I was teaching, in a way that would be sustainable throughout the year. I set out on a creative journey (the part I do so love as a teacher), and the culmination is my book, Differentiated Literacy Centers.
Differentiated Literacy Centers in Action
Scenario 2: Brittney at My Redesigned Differentiated Literacy Centers
2 minutes: Brittney takes her book box from the bookshelf. She walks to the Comprehension Center area, takes a seat, and looks around at the other team members.
4 minutes: Brittney reads her book Robert and the Rocket.
1 minute: She picks up the green-colored (beginning level) task card with picture-cued sentence starters and reads the prompts.
1 minute: Brittney chews the top of her pencil for a moment. She flips through the pages of her book again, looking at the pictures.
3 minutes: She writes a sentence in her centers notebook "I see . . . "
1 minute: Brittney stops writing and looks at the card with sentence cues again.
3 minutes: Brittney writes a second sentence "I wonder . . ."
1 minute: She reads her writing to herself.
4 minutes: Brittney asks Jayden if he will be her thinking partner, reads her sentences to him, talks about a part she has read, and shows him a picture in the book. Then she listens to Jayden read his questions about Shipwreck Saturday and they talk about the story.
Total Minutes: 20 Reading: 7 Writing: 5 On Task: 17
What's the difference between Scenarios 1 and 2? Nearly double the time spent reading and so much more time spent writing! Time on-task increased dramatically when Brittney was provided with the following:
Her own box of reading materials at her independent level, selected during morning routines and during guided reading. Students now spent more time actually reading and responding during center time because they were able to focus on a few preselected books, rather than browsing leisurely through book tubs. By having these books ready to go, Brittney was ready to go, too.

Picture-cued differentiated tasks that supported her response to the reading. Often the hardest part for my struggling students is getting started — writing those first words. The picture-cued, open-ended sentence starters made a huge difference in helping students like Brittney produce a focused response — and giving more advanced readers the opportunity to engage in a higher-level response.

Teacher modeling along with ample opportunity for students to discuss their understanding of a strategy. I began to integrate pair-share activities throughout the day during read-alouds, shared reading, and classroom discussion of content material. Oral discussion of the reading became an important element of the literacy centers, as well. Expressing her ideas aloud and responding to the questions and comments of her peers during center time was critical to Brittney's success in processing her learning.
We know that in order to close the achievement gap for students like Brittney, it is critical that they receive ample explicit instruction and time to engage in authentic reading and writing. When we make fundamental changes, such as the ones above, to our literacy centers, the amount and quality of reading and writing practice increases dramatically, taking students who struggle much farther along the path to literacy, while also helping their more skilled peers push ahead.
This article is excerpted from Differentiated Literacy Centers by Margo Southall.